High resolution photos of chicken wings are available to download here and here. Infographics of this data are available to download here and here.
National Chicken Council predicts Panthers' victory based on wing consumption
Washington, D.C. – Yes, that is 1.3 billion, with a "b."   With the second biggest eating day of the year after Thanksgiving upon us – Super Bowl Sunday – there's no hotter time of year for chicken wings, America's new favorite party food.
According to the National Chicken Council's 2016 Wing Report released today, 1.3 billion wings will be eaten next weekend leading up to and during Super Bowl 50, as fans watch the Carolina Panthers and Denver Broncos battle for the Lombardi Trophy.  That figure is up 3%, or 37.5 million wings, from last year's big game.
It comes as no surprise that chicken wings have become a staple on Super Bowl menus as Americans' demand for them continues to soar.  Wings recently flew to the top of the rankings of The Today Show's "Super Bowl Snack Bracket," handing a snack smack-down to nachos, guacamole, salsa, chili and other popular menu items.
Because you've never really thought about that many wings…
1.3 billion chicken wings is enough for every man, woman and child in the United States to have four wings each.
If 1.3 billion wings were laid end to end, they would stretch from Bank of America Stadium in Charlotte, North Carolina to Sports Authority Field at Mile High in Denver almost 53 times.
That is enough wings to put more than 600 on every seat in all 32 NFL stadiums (Not including London, of course).
Weighing in at about 162.5 million pounds, 1.3 billion wings weigh 6,325 times more than the combined weights of the Panthers and Broncos entire 52-man rosters.
If one of the three Power Ball winners spent his/her entire lump sum on chicken wings (which we think they should), they could buy about 123 million lbs of wings, or only 76% of the 1.3 billion wings eaten Super Bowl weekend.
3 billion wings would stretch 10,468 times from the deepest part of the Marianas Trench in the Pacific Ocean to the surface.
"Any way you measure it, that's a lot of freaking wings," noted Tom Super, senior vice president of communications at the National Chicken Council.  Download an infographic of this data by clicking here.
National Chicken Council predicts Panthers' victory
Overall, during the 2016 NFL playoffs, in cities where chicken wings sold higher than their opponent, the city with higher wing sales won 7 of the 10 playoff games, and 4 of the 5 past Super Bowl games.  If the same holds true for Super Bowl 50, the Panthers will roll over the Broncos – selling wings at nearly a 3 to 1 pace.
According to market research firm IRI Freshlook, in Charlotte (Panthers), $1,400 of chicken wings are sold for every million dollars of grocery sales.  That compares to Denver (Broncos) who sells only $480 dollars per million dollars of grocery sales.  (Essentially for every million dollars that goes through the register at grocery, how much of that is chicken wings.)
"It would be nice to see Peyton Manning go out with a victory lap like Elway, but the numbers don't lie," Super said.  "Dick's Sporting Goods made their predictions based on jersey sales, and although they nailed the Wild Card round, they have the Patriots taking home the Lombardi trophy.  So if history holds true, hopefully wing sales will prove to be a better 'scientific method' of predicting the winner. Follow the chicken."
Where will Americans get their wings? 
The National Chicken Council estimates that of the wings eaten during the Super Bowl, 75 percent will come from food service outlets and 25 percent from retail grocery stores.  According to CHD Expert's foodservice database, Easy2FIND, over 300 new Chicken Wing restaurants opened in 2015, including more than 30 in December 2015.
According to CHD, the top five chicken wing chains in the United States in terms of number of units and market share are Wingstop (44%), Pizza Hut's WingStreet (25%), Hurricane Grill & Wings (6%), Wow Café & Wingery (4%), and Wing Zone (4%). As for Buffalo Wild Wings, their 1,100+ full service restaurants with full bar, are classified as a Bar & Grill, however be assured there are plenty of wings on the menu.
Chicken wings sold at grocery stores and supermarkets skew towards households with three people or more, younger Baby Boomers, Gen Xers, and females 35-54, according to IRI FreshLook Household Panel Data.  "Each one of these categories presents an attractive target for retailers," Super noted.
 Wing-onomics
The average price (wholesale, not retail) of whole wings is currently about $1.78/lb, down from around $2.oo/lb at the same time last year, according to the Daily Northeast Broiler/Fryer Report by the U.S. Department of Agriculture's Agriculture Marketing Service.
Wing prices traditionally go up in the fourth quarter of the year as restaurants and supermarkets stock up for the Super Bowl, and prices usually peak in January during the run-up to the big game.
"A chicken only has two wings; therefore, the supply of wings is limited by the total number of chickens produced," Super pointed out.
"Chicken production last year was up around four percent, and USDA is predicting another two-plus percent increase in 2016.  So an increase in supply, coupled with exports being down, means there are more wings on the market trying to find a home; and hence, at a lower price."
Buffalo Chicken Wing History
Deep-fried chicken wings have long been a staple of Southern cooking.  But the concept of cooking wings in peppery hot sauce was born in 1964 at the Anchor Bar in Buffalo, New York, when co-owner Teressa Bellissimo cooked leftover wings in hot sauce as a late-night snack for her son and his friends.  The guys liked them so much that the Bellissimos put them on the menu the next day.  Served with celery slices and bleu cheese sauce, "Buffalo Wings" were an instant hit.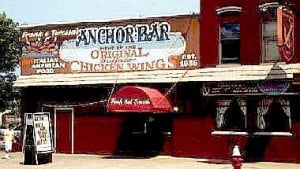 Dick Winger, who sold hot sauce to the bar, went on the road with Dominic Bellissimo, the owners' son, to promote the item and sell hot sauce, and the item gradually caught on with restaurant operators around the country.  The concept hit the big time in 1990, when McDonald's began selling Mighty Wings at some of its restaurants.  KFC rolled out Hot Wings a year later, and Domino's Pizza introduced its own wings in 1994.  They've remained hot ever since.  McDonald's was back in the wing business in 2013, and its Mighty Wings were featured nationwide at most restaurants through the first quarter of 2014.
Chicken Wings and Football – A Love Story
The rise of the chicken wing and its correlation to American football all had to do with timing.
Cooking the whole bird was trendy in the sixties and seventies, but in the eighties U.S. consumers started preferring boneless-skinless breast meat, and wings became an inexpensive byproduct for chicken producers.  Restaurants and bars realized they could charge low prices for the relatively inexpensive  protein, and due to the spicy/salty nature of the sauce, they discovered that beer sales would go through the roof when customers ate wings.
At the same time, sports bars with multiple TVs and satellite dishes were becoming more and more common in America thanks to rapidly developing technology; and the most popular sporting event to watch with friends in bars is football.  Wings were easily shareable and affordable, a great "group food" to eat with other people, and are the perfect pairing with a pitcher of beer.   And so the pigskin-chicken wing bond was born.
###