WASHINGTON, D.C. – While typically its barbecue in Kansas City and cheesesteaks in Philly, when it comes to the Super Bowl, the wing is still king. The National Chicken Council (NCC) today released its annual Chicken Wing Report, projecting Americans to consume a record-breaking 1.45 billion chicken wings during Super Bowl LVII weekend. This figure represents an increase of two percent from last year's report, the equivalent of 84 million more wings.
There are several reasons for the uptick, says National Chicken Council spokesperson Tom Super: "The two main reasons are more favorable prices and more people getting back to normal and gathering for the Big Game, whether at home or at a bar/restaurant," Super said. "While Americans are seeing inflation impact almost every part of their lives, both wholesale and retail wing prices are down double digits from a year ago, according to USDA, and consumers are seeing a lot more features and promotions.
"There are a lot of great story lines heading into the game," Super added. "Andy Reid versus his old team. A battle of the Kelce brothers. Mahomes versus Hurts. But no Super Bowl story line is hotter than wings!"
Big games inspire gatherings, and wings are on the menu. When comparing the week ending 1/22/23 to the week ending 1/08/23 (final week of regular season), wing sales grew double digits in both dollars (+11.5%) and pounds sold (+13.5%) within the Kansas City, Philadelphia, San Francisco and Cincinnati markets. (Source: IRI OmniMarket Integrated Fresh)
So how do 1.45 billion chicken wings stack up? Picture this:
1.45 billion wings laid end to end would stretch from GEHA Field at Arrowhead Stadium in Kansas City, Mo. to Lincoln Financial Field in Philadelphia, Pa. about 62 times.
Enough to give four wings each to every man, woman and child in the United States.
Phoenix's State Farm Stadium (home of Super Bowl LVII) can hold 73,000 people. If 1.45 billion chicken wings were distributed to the full stadium, each fan could enjoy 19,863 wings.
Assuming Kansas City Chiefs' coach Andy Reid can eat three wings per minute, it would take him more than 900 years to eat 1.45 billion wings.
To download a high-resolution photo of chicken wings, click here.
Buffalo chicken wing history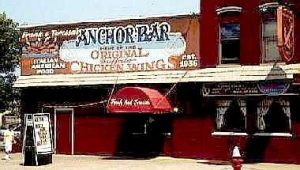 Deep-fried chicken wings have long been a staple of Southern cooking.  But one well-traveled tale of how the concept of cooking wings in peppery hot sauce was born took place in 1964 at the Anchor Bar in Buffalo, New York, when co-owner Teressa Bellissimo cooked leftover wings in hot sauce as a late-night snack for her son and his friends.  The guys liked them so much that the Bellissimos put them on the menu the next day.  Served with celery slices and bleu cheese sauce, "Buffalo Wings" were an instant hit.
Dick Winger, who sold hot sauce to the bar, went on the road with Dominic Bellissimo, the owners' son, to promote the item and sell hot sauce, and the item gradually caught on with restaurant operators around the country.  The concept hit the big time in 1990, when McDonald's began selling Mighty Wings at some of its restaurants.  KFC rolled out Hot Wings a year later, and Domino's Pizza introduced its own wings in 1994.  They've remained hot ever since.  McDonald's was back in the wing business in 2013, and its Mighty Wings were featured nationwide at most restaurants through the first quarter of 2014.
Chicken wings and football – A love story
The rise of the chicken wing and its correlation to American football all had to do with timing.
Cooking the whole bird was trendy in the 1960s and 1970s, but in the 1980s, U.S. consumers started preferring boneless-skinless breast meat, and wings became an inexpensive byproduct for chicken producers.  Restaurants and bars realized they could charge low prices for the relatively inexpensive protein, and due to the spicy/salty nature of the sauce, they discovered that beer sales would go through the roof when customers ate wings.
At the same time, sports bars with multiple TVs and satellite dishes were becoming more and more common in America thanks to rapidly developing technology; and the most popular sporting event to watch with friends in bars is football.  Wings were easily shareable and affordable, a great "group food" to eat with other people, and are the perfect pairing with a pitcher of beer. And so the pigskin-chicken wing bond was born.
###