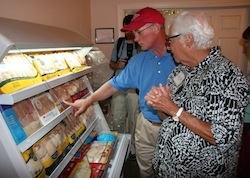 The second day of Chicken Media Summit was all about transparency. Members of the press were invited to tour a hatchery, grower barn, processing plant and waste water treatment facility. This allowed for them to see with their own eyes the complete life of a chicken from egg to plate. And most importantly, get all questions answered.
Sanderson Farms was the company that opened it's doors to attendees of this year's summit. This experience alone was an eye opener for many. They were able to truly understand the science, technology and safety behind the most popular white meat.
President and CEO of Sanderson Farms, Lampkin Butts, along with many other Sanderson Farms employees spent the entire event with guests and were honored to play host to the Chicken Media Summit tours. I had to opportunity to spend the day with Lampkin and chatted with him as he discussed meeting consumers needs, challenges in the industry and growing price of feed.
Listen to my interview will Lampkin here: Interview with Lampkin Butts
Check out photos from the event here: 2013 Chicken Media Summit Photo Album