[wptabs style="smoothness" effect="slide" mode="horizontal"]
[wptabtitle]HOME[/wptabtitle] [wptabcontent]
The National Chicken Council invites you to attend its 64th Annual Conference scheduled Tuesday, October 30 through Wednesday, October 31 at The Four Seasons, Washington, D.C. NCC members, state association representatives, members of the press, government officials, academia, and other interested parties are invited to attend this public meeting to address current legislative, regulatory, political, business, agricultural, economic, and international trade issues affecting the chicken industry.
Registration Rates
Advance registration is required. NCC member registration rates are $950 per registrant. NCC non-member registration rates are $1,100 per registrant. State trade association representatives, members of the press, academia (faculty only), and government officials may attend on a complimentary basis.
Important Dates
October 14: Register to attend the conference with NCC by this date
October 14: All hotel reservations must be made by this date.
After October 14, hotel accommodations at The Four Seasons cannot be guaranteed and group rates will no longer apply. After October 14, the prevailing rate at the Four Seasons, which will be substantially higher than the NCC hotel room rate, will be quoted. At that point, you may book the prevailing rate or stay at an alternative hotel.
Conference Cancellation Policy
The National Chicken Council must receive cancellation notification by e-mail to [email protected]. No cancellation can be strictly accepted by phone.
For registrations cancelled after Monday, October 22, $550 of your conference registration fee will be forfeited.
"No Shows" (no notification of cancellation to NCC prior to the start of the conference) will forfeit the full registration fee.
[/wptabcontent]
[wptabtitle]AGENDA[/wptabtitle]
[wptabcontent]
*** Check back for Updates on the Program***
Registration and Information
Located in the Four-Seasons Ballroom Foyer
Tuesday, October 30: 8:30 a.m. to 6:30 p.m.
Wednesday, October 31: 7:15 a.m. to 6:00 p.m.
Market Segment 1
1970
1980
1990
1995
1997
1999
2001
2003
2005
2006
2007
2008
2009
2010
2011
2012
2013
2014
2015
2016
2017
2018
2019
2020*
2021**
2022**
2023**
2024**
2025**
——————————————–percent based on quantity (chicken product weight)————————————————–
Retail Grocery
75
71
59
58

56
60
58
56
55
55
54
56
54
56
55
55
54
53
52
50
52
50
49
56
54
52
50
49
48
Foodservice
25
29
41
42
44
40
42
44
45
45
46
44
46
44
45
45
46
47
48
50
48
50
51
44
46
48
50
51
52
(Fastfood Share of Foodservice)
(60)
(66)
(50)
(40)
(40)
(45)
(55)
(55)
(55)
(55)
(56)
(56)
(58)
(57)
(56)
TOTAL
100
100
100
100
100
100
100
100
100
100
100
100
100
100
100
——————————————————————————$billion$—————————————————————————-
Wholesale Value of Broiler Products Shipments from Plants 2
2.5
6.0

15.0
22.5
25.0
28.0
31.5
34.5
40.0
37.5
44.5
46.5
45.0
47.5
49.5
Percentage of Wholesale
–
–
–
–
–
–
46.0%
48.0%
49.0%

49.0%
50.0%
48.0%
49.0%
45.0%
47.5%
Value of Broiler Products
Shipment to Foodservice (%)
Note: Based Upon NCC's Broiler industry Marketing Survey Biennial Report.
* Estimated
** Projected
[/wptabcontent]
[wptabtitle]HOTEL[/wptabtitle]
[wptabcontent]
Hotel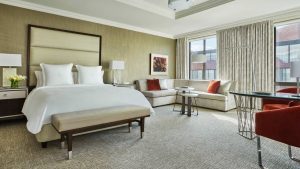 The five-star, five-diamond Four Seasons, Washington, D.C., is located at 2800 Pennsylvania Avenue, in downtown Washington in the Georgetown neighborhood.
The hotel offers 222 elegantly appointed guest rooms including 59 suites. The hotel also has as a state-of-the-art fitness center, indoor pool, sauna and steam rooms, and spa. Underground parking is also available. Check in at the hotel is 3:00 p.m. Check out is 12 Noon. Visit FourSeasons/Washington for detailed information about the hotel.
Hotel Room Rates
Room Rates for the National Chicken Council are $420 per night, plus applicable state and local taxes, currently 14.8 percent. Contracted group rates will be honored for arrivals and departures up to two (2) days prior to and after the official dates of the meeting based on availability at the time of request.
To Make Hotel Reservations
All hotel reservations must be made no later than Sunday, October 14. After the October 14 cutoff date, room availability and discounted group rates cannot be guaranteed, and you will be on your own to secure alternative hotel accommodations.
To Make Reservations by Phone
Call the Group Reservations Line at the Four Seasons at 202-944-9157. You must reference the National Chicken Council Annual Conference to secure group rates of $420 per night.
To Make Reservations Online:
visit FourSeasons.com/Washington. Choose "Accommodations" at the top of the Website. Enter your check-in and check-out dates; adjust the number of adults/children per room; enter the Promo Code to secure NCC's $420 per night rate.
Corporate Promo Code: CI0118NCC. Enter the letters CI, the number 0, the number 1, the number 1, the number 8, then the letters NCC.
Hotel Cancellation Policy
All reservations must be guaranteed with a major credit card. If you wish to cancel your hotel reservation, you must do so by 6:00 p.m., 7 days prior to your arrival. If you cancel within 7 days of arrival, you will be responsible for your hotel room rate, plus tax, for your first night of stay.
In addition, if you check out of the Four Seasons prior to your scheduled departure date, as confirmed upon check-in and registration, you will be charged one night's room rate, plus tax.
[wptabtitle]TRANSPORTATION[/wptabtitle]
[wptabcontent]
Transportation
The Four Seasons Hotel is located at 2800 Pennsylvania Avenue, Washington, D.C. 20007. The general phone number is (202) 342-0444.
Airports
Ronald Reagan Washington National Airport (airport code: DCA) is 7 miles from the Four Seasons.
Washington Dulles International Airport (airport code: IAD) is 26 miles from the Four Seasons.
Baltimore Washington Airport (airport code: BWI) is 30 miles from the Four Seasons.
Getting Around Town
The hotel offers overnight valet parking at $56 overnight. Valet Day parking is $29 per day.
The closest Metrorail Stations are Dupont Circle on the Red Line and Foggy Bottom on the Blue Line. Visit WMATA for metro information.
Taxicabs are readily available at all airports and at the hotel.
Available on a first come basis to sites within downtown Washington DC, Four Seasons limo service is available weekdays from 8:00 am to 8:00 pm and weekends from 10:00 am to 6:00 pm.
[/wptabcontent]
[wptabtitle]DINING & LOCALE[/wptabtitle]
[wptabcontent]
Dining & Locale
For information on things to do and see while you are in Washington, visit www.washington.org.
Four Seasons Restaurants
Bourbon Steak: Celebrity Chef Michael Mina brings his contemporary American Cuisine with a focus on seasonal ingredients to the Four Seasons. Known for his signature slow-poaching method of cooking, Mina and Executive Chef Joe Palma deliver a modern menu that focus on the finest meats and seafood available both locally and worldwide.
(202) 944-2026
Dinner
Sunday – Thursday, 5:30 p.m. to 10 p.m.
Friday – Saturday, 5:30 p.m. to 11 p.m.
The Lounge at Bourbon Steak: A vibrant atmosphere and cozy patio provide the perfect settings for savoring handcrafted seasonal cocktails and a wide selection of rare scotches, bourbons, and cognacs. Guests can enjoy an extensive wine menu and delectable offers from Bourbon Steak.
Monday to Friday, 11:30 a.m. to closing, Saturday and Sunday 5:30 p.m. to closing
Seasons Restaurants: Offers a bright, tranquil setting for the morning crew of movers and shakers, visiting dignitaries, and hotel guests. Under the direction of Executive Chef Doug Anderson, the Georgetown restaurant's traditional dishes come alive with elegant twists from ricotta pancakes to an Asian breakfast of seared sesame tune. Tuck into a delectable mix of regional and seasonal ingredients, during breakfast and Sunday brunch.
Brunch on Sunday: 10:30 a.m. to 2:00 p.m.
Breakfast: 6:30 a.m. to 11:00 a.m. Monday to Friday
Breakfast: 7:00 a.m. to 10:30 a.m. Saturday
Lunch: 10:30 a.m. to 2:00 p.m. on Sunday
ENO Wine Bar: ENO, a Four Seasons outlet, located adjacent to the hotel works to locally source many of its evening menu items, which include cheeses from Virginia and Pennsylvania as well as local charcuterie and chocolate pairings. An extensive list of wines by the glass includes the option to enjoy a flight of three 2.5-ounce glasses. Take a seat in the space's modern atrium and overlook the Georgetown action.
2810 Pennsylvania Avenue NW.
(202) 295-2826
Hours:
Tuesday-Thursday: 5:00 p.m. to 11:00 p.m.
Friday-Saturday: 4:00 p.m. to 12 midnight
Sunday: 4:00 p.m. to 11:00 p.m.
Area Restaurants
Following is a list of some suggested restaurants. For further information or additional suggestions, contact the concierge staff at The Four Seasons or click through each restaurant name to visit their website.
Bistro Lepic: This tiny French bistro in Georgetown offers charming food and sunny service.
1736 Wisconsin Avenue, NW
(202) 333-0111.
Moderate. Georgetown.
Black Salt: The restaurant is committed to the sustainability of fish and shellfish worldwide and consistently delivers the freshest fish and seafood in the area in a casual, but elegant, setting. Features seafood market in the front. Enjoy raw oysters to fried Ipswich clam chowder and your will think you are dining at a beachfront café.
4883 MacArthur Blvd., NW.
BLT Steak: Chef Laurent Tourondel's "temple of beef" purveys outstanding steaks and pre-meal "freebies" like addictive popovers in a smart, sophisticated space near the White House. Lots of buzz and energy, though it is definitely in "expense account land," with accompanying high prices.
1625 I Street, NW.
(202) 689-8999.
Downtown. Very Expensive.
Blue Duck Tavern: From the showpiece of a kitchen–tricked out with a wood-burning oven and a blue Molteni range, chef Sebastien Archambault works wonders with farm-stand bounty, fashioning Chesapeake crab into lemony caper-studded cakes and shaving raw Brussel sprouts into a cider-spiked salad. Desserts include milk-chocolate s'mores and a cinnamon panna cotta dessert, among other delicious options. Sophisticated and modern ambiance.
In the Park Hyatt, 1201 24th Street, NW.
(202) 419-6755.
Expensive. West End.
Bombay Club: Chef Nilesh Singhvi favors subtle, earthy flavors in his curry sampler, and a lamb vindaloo laced with aged vinegar. In the dining room, beltway power players sit at tables semi-obscured by leafy palms. For a splurge-worthy feast with out-of-towners, there are few better options.
815 Connecticut Avenue, NW.
(202) 659-3727.
Expensive. Downtown.
Café Milano: Italian food as light as you wish, sparkling with flavor and as colorful and lovely as the designer neckties that decorate the walls. Wide variety of wines. A Georgetown hot spot.
3251 Prospect Street, NW.
(202) 333-6183.
Expensive.
Central Michel Richard: All-star Chef Michel Richard puts his spin on American and French comfort food at this bistro. Informed service and smart, modern atmosphere as well as super-high quality food that does not break the bank. Stylish, bustling, and fun atmosphere.
1001 Pennsylvania Avenue.
(202) 626-0015.
Penn Quarter. Expensive
Centrolina: Chef/owner Amy Brandwein's drives this modern, smartly casual CityCenter osteria where the regional Italian fare includes handmade pasta and wood grilled entrees that highlight seasonal produce, meats, and cheeses.
972 Palmer Alley, NW.
(202) 898-2426.
Expensive.
Charlie Palmer Steak: This modern, sleek restaurant from the owner of Aureole in New York is not just a traditional steakhouse. The modern American cooking is impressive. There is an abundance of surf to compete with the turf on the menu. The large dining room has clean lines with a blue-and-silver color scheme and floor-to-ceiling windows, giving it a feeling of a sleek ocean liner. The wine list is presented in the traditional way or from hand-held computer, where you can bookmark choices to discuss with the master sommelier. Smooth service and with the Capitol building as a backdrop makes for a truly Washington dining experience.
101 Constitution Avenue, NW.
(202) 547-8100
Capitol Hill
Chez Billy Sud: A cozy and inviting bistro ambiance setting paired with a menu that showcases southern French cuisine makes this new entry into Georgetown a neighborhood favorite. The patio is a perfect spot to unwind with a glass of wine when the weather cooperates.
1039 31st Street, NW. Georgetown.
(202) 965-2606.
DBGB: Manhattan master chef Daniel Boulud comes to Washington in his newest restaurant in CityCenter DC serving American French cuisine in a slick, modern space. Country-style pate, house-made sausages, coq au vin, and pancetta-wrapped trout, baked Alaska, and fig tarts are some examples from the menu.
931 H Street NW.
(202) 695-7660
Downtown. Expensive
Degrees: Degrees offers an innovative small plates menu featuring internationally-inspired regional cuisine, complimented with an innovative cocktail and wine list. Located in the lobby level of The Ritz-Carlton Georgetown, Washington, D.C., the restaurant's vibrant atmosphere complements the hotel's modern, industrial-chic style with exposed brick, warm hardwood floors, classic bistro tables, and a sleek, 25-seat black slate bar.
3100 South Street NW.
In the Ritz-Carlton, Georgetown
(202) 333-4100.
Del Mar: Fabio Trabocchi, one of Washington's finest chefs, has opened his new restaurant in Washington`s new Wharf neighborhood. Del Mar pays homage to the cooking of Spain. Terrific menu and top-flight service. Every aspect of a meal puts the customer first. Be prepared to be dazzled.
791 Wharf Street, SW.
Fiola Mare: Located on the Georgetown waterfront with views of the Potomac River that are upstaged by the exquisitely prepared seafood. Not to be missed is the lobster ravioli signature dish. Chef and owner Fabio Trabocchi has crate a little bit of Italy o on the Potomac. A true dining experience.
Very Expensive
3050 K Street NW.
(202) 628-0065
Kaliwa: Sprawling new Philippines/Korean/ Thai restaurant on the Wharf. In Washington, there is really nothing quite like Kaliwa, where three popular cuisines are offered in what feels like a fun house.
751 Wharf Street, NW.
La Chaumiere: Rustic restaurant with a typical French country inn feel. They are known for their quality and consistency, which have made them a mainstay in the Georgetown restaurant scene. The true French flare without attitude makes for a warm and cozy evening.
2813 M Street, NW.
(202) 338-1784
Le Diplomat: Restaurateur Stephen Starr reportedly spent $6 million to fashion this Paris-style bistro. Bistro classics immaculately constructed. Dishes include a textbook hanger steak drenched in herbed butter, roast chicken, superlative breads, and crème brulee.
1601 14th Street, NW.
(202) 332-3333
Moderate
Marcel's: Talented Chef Robert Wiedmaier's, a longtime fixture on the Washington dining scene, serves Belgian-influenced French cooking, which is both refined and full of big flavors. This is a bastion of old-school. Hearty and adventurous cuisine, outstanding service, and mouthwatering desserts in a setting of warm stone walls, wrought-iron accents, and a raised, open kitchen. Notable wine list.
2401 Pennsylvania Avenue.
(202) 296-1166
West End. Very Expensive
Oval Room: Just a short stroll from the President's office, which makes it a magnet for administration officials, serving modern American cuisine with a Mediterranean influence in an elegant and sophisticated setting. The outdoor patio is a popular option weather permitting.
800 Connecticut Avenue, NW
(202) 463-8700
Downtown. Expensive.
Proof: Biblical-length wine list overseen by a sommelier that knows his stuff. Fantastic New American menu, some dishes with an Asian bent. Don't miss the meatballs with goat-cheese agnolotti, trout with potato confit, and almond cake. New York chic look with lovely dark wood, leather booths, and outrageous bathrooms.
775 G Street, NW.
(202) 737-7663
Penn Quarter. Expensive
Rasika and Rasika West End: Modern Indian cooking, exuberantly conceived and executed with precision. The curries, kebabs, and stews that tend to define subcontinent cooking are starting points for immensely talented Chef Vikram Sunderam. In slyly westernizing these dishes, he incorporates luxury ingredients and sets them off with sauces that speak of care and refinement while retaining the punch of the original. Gorgeous interior bathed in an orange glow. A chic place that is also surprisingly comfortable with outstanding service.
633 D Street, NW. Penn Quarter
(202) 637-1222.
1190 New Hampshire Avenue, NW. West End
(202) 466-2500
Expensive
Ristorante Tosca: This restaurant is virtually unchallenged as the premier destination for Northern Italian refinement in Washington. Chef Massimo Fabbri is a virtuoso of pasta, which he makes daily. Spare but stylish interior. Simple, but satisfying salad and small pillows of ravioli concealing veal, prosciutto, and mortadella in a rich wine reduction are examples of the fine cuisine. Desserts that play by the calendar. Service is polished. 1112 F Street, NW
(202) 367-1990
Downtown. Very Expensive
1789: This history-soaked Federal-style rowhouse in Georgetown is not just a gorgeous spot to revel in Old-Washington formality. Chef Anthony Lombardo delivers a unique combination of old and new seasonal American cuisine.The five dining rooms are decorated with American antiques, period equestrian and historical prints and Limoges china.
1226 36th Street NW.
(202) 965-1789
Expensive. Georgetown.
The Source: Pan-Asian cuisine at this confident outpost of Wolfgang Pucks' culinary empire. Situated next to Penn Quarter's blockbuster Newseum, the restaurant, moodily lit, is a lounge-style space. Serves the best dumplings in the area, delicately fashioned and stuffed with pork; perfect mini-burgers; crispy fried bass, filleted tableside; Arctic char accent with Indian spices; and plump prawns in a zesty Indian curry, among other dishes. A fantastic wine list and well trained staff add to the experience. More casual fare is doled out in the chic downstairs lounge.
575 Pennsylvania Avenue, NW.
(202) 637-6100
Penn Quarter. Very Expensive.
[/wptabcontent]
[/wptabs]